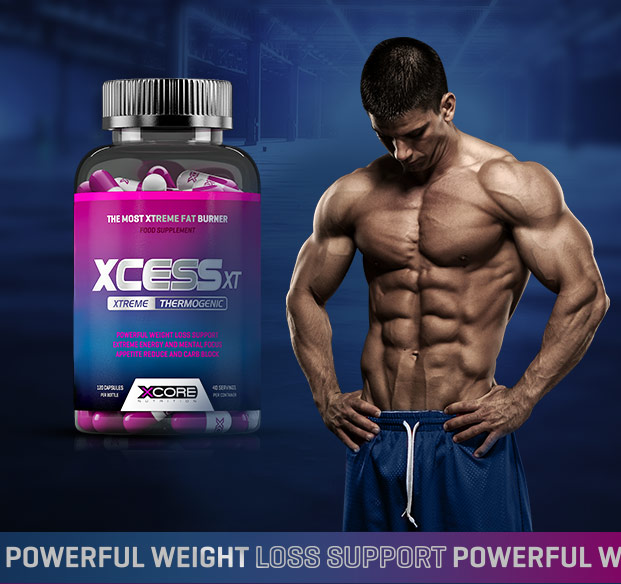 THERMOBURN
Thermogenic Igniter
DIURETX
Diuretic & Detox Complex
MOODCONTROL
Craving Control & Mood Enhancer
ALPHASENSORY
Alpha Receptor Optimizer
CARB BLOCKER
Carbohydrates Absorption Inhibitor
ERGOCOMPLEX
Adaptogenic and Absorption Intensifier
Xtreme results demand xtreme measures
We had one ambition: to develop the most advanced and complete thermogenic formula on the market. To meet that goal, we combined nothing but scientifically tested compounds in a perfect ratio, acting synergistically to stimulate the body to burn fat. From stimulant ingredients to appetite suppressants and mood enhancers, nothing was left out. And the result is XCORE Nutrition XCESS XT, an extremely powerful, all-in-one formula with unique complexes.
The thermogenic igniter for a complete effect.
ThermoBurn is a complex of powerful ingredients that were carefully combined with one goal: to effectively burn fat and enhance your performance at the same time. Acting synergistically, these compounds have a comprehensive effect on the bottom line aspects of weight loss processes.
Caffeine is the most popular energetic and thermogenic substance in the world – and rightfully so. This chemical stimulates the central nervous system and therefore also the heart and muscles. The result is an energizing sensation throughout the body, enhancing alertness and physical performance while supporting fat loss at the same time.
L-carnitine participates in the transport of fatty acids into the mitochondria, thus helping in the oxidation of fat stores. As a sports supplement, L-carnitine is widely used by those who wish to improve performance and diet.
And finally, ThermoBurn Complex also comprises Cayenne Pepper (Capsicum anuum) and Guarana (Paulina cupana), also known for their fat burning properties.

The most advanced thermogenic formula
DiureTX
DIURETIC AND DETOX COMPLEX To offer you an effective solution, XCORE Nutrition went even further and added one special medicinal plant extract to XCESS XT: Nettle leaf, or Urtica dioica. This ingredient contains a variety of nutrients with anti-inflammatory potential, being traditionally used as a botanical diuretic.
Craving & Mood Control
YOU ARE IN CHARGE To keep your cravings and mood in check, XCORE Nutrition XCESS XT was enriched with powerful compounds such as L-Tyrosine, 5-HTP, Blue Skullcap extract, Niacin (vitamin B3) and Ginkgo biloba, among others. These ingredients contribute to boosting your cognitive functions, like mental focus and memory, while promoting quality rest and enhancing the sensation of satiety.
AlphaSensory
WORKING TO BALANCE HORMONES Because hormones play an important role during weight loss processes, XCORE Nutrition designed the AlphaSensory Complex. It features 4 active ingredients for a comprehensive block of alpha-2 receptors. These compounds act together, balancing hormonal production and enhancing the release of fat from the cells.
Carb Blocker Complex
BEAT YOUR CARB BINGES FOR GOOD With two unique ingredients, XCORE Nutrition XCESS XT will give you back the control of your appetite. Bitter orange extract has a long history of medicinal use in China and the Amazon rainforest, and recently has become popular as a weight-loss supplement. Additionally, Chromium is a mineral that helps maintain normal blood sugar levels, making it especially important for people involved in sports since they require glucose as primary energy source.
ErgoComplex
THE HELPING HAND THAT MAKES THE DIFFERENCE Last but not least, XCESS XT was formulated with an exclusive complex by XCORE Nutrition, specially developed to support the uptake and subsequent action of each and every nutrient in this powerful fat burner. ErgoComplex was designed with four ingredients: BioPerine® Black Pepper (a patented and clinically proven form of piperine), Vitamin B6, Zinc and Vitamin B12.
• Powerful formula for weight loss support
• Extreme thermogenic action: Caffeine, L-Carnitine, Cayenne pepper and Guarana
• Appetite reducer and carb blocker.
• Enhances energy and mental focus
• Features patented BioPerine®, Vitamin B6, Zinc and Vitamin B12
• Advanced and scientifically tested fat burner